True Longboard Control
Original longboards and trucks were designed with one thing in mind: Control. Control over your speed and control over your direction, the control you need for longboarding progression. Original longboard trucks deliver the control your longboarding has been looking for.

Weave in and out of pedestrians on the city sidewalk, pop off the curb and carve out that long downhill before zigging back onto the sidewalk to avoid on-coming traffic. Can't get to the mountains? The control Original trucks give you can turn any slightly sloping bridge, parking garage, tennis court or flat neighborhood street into a carving longboarder's paradise. Pump for speed and rip carves powered by longboard trucks that give you what you have always wanted. Whether you are in the city, on the flats or riding big mountain hills too steep to bomb, Control is the key.

Quick changes of direction are essential, but in longboarding control over your speed is what really makes Original special. Speed control by carving allows beginners to learn how to longboard at their own pace, while allowing advanced riders to kill it on the big stuff. Control your speed by carving, learn how to footbreak, add a pair of slide gloves and you are ready to take on just about anything. Original longboards and trucks deliver all the speed control you could want, carve out your turns and practice your balance while keeping your speed in check.

Don't get speed wobbles! With the confidence that comes from knowing you can slow your longboard down before you get going too fast, beginners will learn how to longboard faster and experienced riders will progress more quickly.

Take control of your speed and take control of the future of your longboarding; Original Trucks will show you the way.
Original S6 Longboard trucks are quick as lightning for the ultra tight turns you have always wanted, but never thought possible on a conventional longboard skateboard. Beginners who are working on the fundementals should take a look at the S6es to get their carves dialed on the flats or small hills before they take their longboarding to the next step on the big stuff.

The first, and still the standard.
The Super 6 Truck is the quickest we make. Great for slalom, as well as flatland, and the overall crowd favorite for anything on the aggressive end of longboard skateboarding.

Unlike normal skateboard trucks, Original S Trucks allow for a much greater range of motion and a vastly superior turning radius.

These trucks will draw new lines in your old skate park, riding is believing.

S6 Specs
Hanger Width: 6 inches (150mm)
Total Width (bolts included): 8.625 inches (220mm)
Required Clearance: 4.5 inches or thinner
Recommended Wheel Alignment: Side-Set
Hardware Included: Oversized Chrome Plated with custom 3/4'' Risers


$62.00 per pair
Original S8 Longboard trucks are the mainstay of our truck line. For hills and most terrain other than flat, the S8 200mm trucks will out-perform the S6 trucks and give the rider more confidence at speed. Longboarders switching from traditional bushing based longboard truck designs (Randal, Paris etc) should aim for the S8s, and probably heavier tension springs (red for the win), to rip right off the bat, to heck with the transition.
The S8 truck is our mid ranged carving solution. Great for pumping on shorter boards or mid-ranged speed on the hills.
A step up in stability, a step down in quickness.

The Super 8 provides a large increase in stability at the cost of quickness, in relation to the Super 6 trucks. Geared as an all around carver the Super 8 truck adds downhill to its arsenal while maintaining a smaller turning radius than most slalom trucks. In addition the extra width allows you to put this truck on boards designed with only minimal wheel bite cutouts.

S8 Specs
Hanger Width: 8 inches (200mm)
Total Width (bolts included): 10.625 inches (270mm)
Required Clearance: 6 inches or thinner
Recommended Wheel Alignment: Side-Set
Hardware Included: Oversized Chrome Plated with custom 3/4'' Risers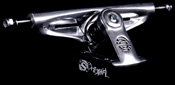 $68.00 per pair
Original S10 longboard trucks pack the carving power you need to take out the biggest hills in the world. As a bigger guy, or a little guy facing big terrain, the S10s will carry your carves and give you the skateboard confidence you need to take it to the big stuff. No other longboard truck sports such a wide hanger along with such a tight turning radius, feel the differnce the worlds widest carving trucks can make to your longboarding.
The S10 truck combines super tight turns with more stability than can be found in either our S6 or S8 trucks.
Much more stable, much less agile.

The Super 10 truck is a born Cruiser.
Unlike a normal wide (200mm +) truck the Super 10s can still turn on a dime, if not quite as tight as the Super 6s or 8s. As with the Super 8 trucks, the large hanger of the Super 10s eliminates the need for wheel cutouts on many boards.

S10 Specs
Hanger Width: 10 inches (250mm)
Total Width (bolts included): 12.625 inches (320mm)
Required Clearance: 7.5 inches or thinner
Recommended Wheel Alignment: Side-Set
Hardware Included: Oversized Chrome Plated with custom 3/4'' Risers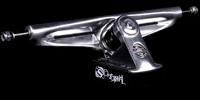 $74.00 per pair
Find your mounting bracket, set so you are looking at your board vertically. Measure half way between each mounting bracket vertically (as illustrated by the red triangle above) and then use that measurement to line up to measure your board's width. The measurement across your board is your Board Clearance and will determine which trucks you can mount on your board.

It is important to measure your clearance both over the front AND back mounting brackets as these numbers can be different.

Clearance requirements are listed for each truck on the respective truck pages and for reference below:

Required Clearance:
S6 (150mm) trucks: Clearance of under 4.5'' in the front and back
S8 (200mm) trucks: Clearance of under 6' 'in the front and back
S10 (250mm) trucks: Clearance of under 7.5'' in the front and back
Lifetime Mech-Support
Original trucks are some of the strongest, most reliable, longboard trucks on the market. For that reason we have no problem backing them up 100% for 6 months on breakage and defects. Beyond that, Original goes the extra mile for it's longboard riders with Lifetime Mech-Support. If you EVER have a question or a problem with your trucks we are just a phone call, or an email, away, ready to answer your questions and give you the knowledge you need for longboarding progression. No worries, we have got your back, no matter where your longboard takes you.
Which Original Longboard trucks are you?
By using a patented single spring resistance mechanism Original longboard trucks produce a unique, powerful, carving ride that is found no-where else. Since they ride very differently from a traditional longboard truck, it is important to be sure you are picking the right Original truck for your board. We are commited to making sure each of our riders has the best possible experience on our longboard trucks.

Watch the videos, look for what you like and learn more about Original longboard trucks, then if you have any questions about which is best, contact us at 770-410-3456, we will personally help you pick out the best longboard truck for your longboard deck.